Award winning author, Lydia Michaels, writes all forms of hot romance. She presses the bounds of love and surprises readers just when they assume they have her stories figured out. From Amish vampyres, to wild Irishmen, to broken heroes, and heroines no man can match, Lydia takes readers on an emotional journey of the heart, mind, and soul with every story she pens. Her books are intellectual, erotic, haunting, always centered on love.Lydia Michaels loves to hear from readers! She can be found on Facebook and Twitter (@Lydia_Michaels) or contacted by email at 
Lydia (at) LydiaMichaelsBooks (dot) com
.
Lydia Michaels is the award winning author of over 20 romance novels. Her darkly compelling Surrender Trilogy was an Apple iBooks bestseller and she has been featured in USA Today. In 2015 she was the winner of The Best of Bucks Award and she has been nominated as Best Author in the Bucks Happening Magazine two years running [2015 & 2016]. She is a four time nominee for the prestigious RONE Award.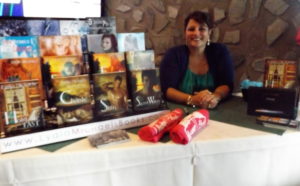 "Lydia Michaels is by far becoming one of my favorite authors and I can't wait to read more from her." ~Live, Read and Breathe Reviews
"I truly enjoyed the way that Lydia Michaels was able to make this story come to life, her characters had so much depth that you could not help but feel like you knew them personally in the end." ~Cocktails & Books
When Lydia's not writing she loves to turn a good day into a great day by doing something silly. She adores anything requiring a costume and attends the Pennsylvania Renaissance Fair ever year in some
ridiculously extreme getup. She cannot–simply cannot–turn down a Halloween party and has been called "The Queen of Theme Parties ". Her favorite time of year is December, because she absolutely LOVES Christmas, the chaos, the traditions, and the joy of giving. All of it. Even the crazy parts.
In the summer she likes to pass time at her family's lake house.  In her twenties, she was a special education teacher, an art teacher, and a wedding planner. Not once did she suspect she'd someday be an author. She has been known to randomly paint a floor to ceiling mural in her house, which her daughter appreciates and her husband permits (He's awesome like that!). Cooking is a passion she inherited from her Irish mom who happens to cook the most incredible Italian cuisine. Lydia has made claims that her family is the Italian version of the McCulloughs. Since writing the Skin, Lydia has been obsessed with clean eating and is slowly writing a cookbook inspired by her happy, now organic, kitchen. Her favorite topics of conversation are cowboys, men in kilts, naughty romances, 1980's pop culture, and wine (She's not a connoisseur by any means, just a fan. And when there's wine, there's more talk about things like cowboys and kilts, so…Go Wine!) .
Lydia will shamelessly sing out of key, because she loves to sing, no matter how terrible her voice. Her favorite authors are Lisa Kleypas and Lorelei James (She's a totally fan girl for these ladies). Lancaster is one of her favorite places to visit. And above all, she thinks lying in bed on a rainy Sunday with her husband, daughter, socially awkward dog, and two crazy cats is heaven on earth.