Get ALL the McCulloughs in One!
This special Collector's Edition features all eight of the beloved McCullough Mountain novels in one. Lydia Michaels' McCullough Mountain series has been featured in USA Today, nominated three separate times for the prestigious RONE Award, and includes multiple bestsellers! This box set also features the newly released story of Kate McCullough, How to Love Her.
This wild Irish family situated in a small town in Pennsylvania will grab your heart and not let go! If you're looking for a family saga you can't put down, the McCulloughs are waiting! This collection is valued at $21.00, but is being sold at a special edition price that can't be beat!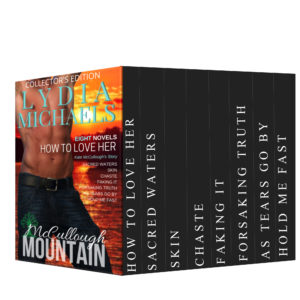 Bundle Includes:
How to Love Her (Prequel- Kate)
Sacred Waters (1- Colin) *Recommended by USA Today
Skin (2- Finn) *Bestseller **RONE Award Finalist ***Featured in USA Today
Chaste (3- Kelly) *#1 Bestseller **RONE Award Finalist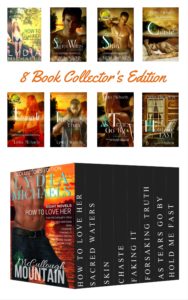 Faking It (4- Sheilagh) *RONE Award Finalist
Forsaking Truth (5- Luke [MM]) *#1 Bestseller 6 weeks in
a row!
As Tears Go By (6- Braydon)
Hold Me Fast (7- Frank & Maureen then and now)
McCullough Novels have been Rated over 1,500 times on Goodreads with an average rating of 4.13 Stars!