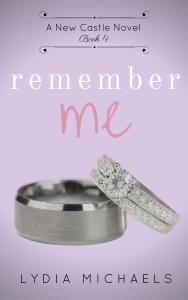 Ellie and Dean Harrison defined 

The Perfect Couple. 

No one could love Ellie, sultry chef and restaurant owner, more than her southern husband, Dean. Owning each other—mind, body, heart, and soul—nothing could ever break them apart. But when tragedy strikes one random morning and Ellie is left with no memories prior to waking up, everything changes.
[pullquote-right]"Each book I read by Lydia Michaels I think that's her best yet and then I fall in love with the next book. I think that each book is so well written and so individual." ~Goodreads Reviewer[/pullquote-right] Dean is in love with a woman who no longer recognizes him. Like chasing a feather in the wind, she's there, but out of reach. Ellie awakens in hospital surrounded by strangers and a gorgeous man insisting he's her husband. Clueless about all things involving intimacy and love, Ellie agrees to give Dean ninety days to convince her she is meant to be his wife, and teach her what it is to be thoroughly loved. 
A heartwarming tale of unconditional love, trust, and acceptance.